For the twelfth year in a row, I am publishing an account of my top 10 best and worst sports moments of the past year. Scroll through the blog archives from late December of each year if you want to see the previous editions. Keep in mind that these are given from a purely subjective viewpoint. When I say "best/worst moments" I'm not talking about great or horrible sporting events. I'm talking about moments that affected me the most positively or negatively. Overall, this was a pretty terrible sports year for me as well as most everyone else given the fact that so many important events were cancelled (March Madness, British Open, Wimbledon, college football non-conference games, etc.) or played with no fans. Nevertheless, the show must go on and rankings must be produced, so without further ado, here are my best and worst sports moments for the year 2019.
Best Moments:
1.  Dominic Thiem wins his first grand slam title at the U.S. Open (September 13, 2020)- Most of you that follow my blog regularly know that I am a huge tennis player and fan and that Andy Murray is my all-time favorite athlete.  With that being said, Murray has been out of the mainstream tennis landscape for the past four years to a series of injuries and surgeries.  As a result, Dominic Thiem has become my favorite top player, as my dad was born in Austria and our family has traditionally rooted for Austrian athletes.  After years of coming up just short, Thiem finally broke through at the U.S. Open this past September to win his first slam in as dramatic of a way as humanly possible.  Thiem came back from two sets to love down against 5th seeded Alexander Zverev to win the title in a fifth set tiebreaker by a narrow 8-6 margin.  It was the first men's singles final to be decided by a fifth set tiebreaker in U.S. Open history.
2. Coastal Carolina upsets BYU in the college football game of the year* (December 5, 2020)– I am adding a new feature to this year's list and that is by putting a star (*) by the events that I actually attended in person. Obviously, attending a great event elevates its importance to me as well as its status on this list. That is why it was incredible to be able to attend the college football game of the year this past fall, especially as a validated member of the media (thanks largely to this blog and its supporters). This game literally had it all: a first-time visit by College Gameday, a catchy throwback slogan (Mormons vs. Mullets), an end of half brawl, and a thrilling final play that led to a double-digit upset and the biggest win in a program's history. It is a game that myself, nor anyone else in Brooks Stadium that night, will ever forget.
3. Shocker Saturday: Kansas State upsets Oklahoma and Mississippi State stuns LSU (September 26, 2020)– The college football season technically began at the beginning of September as it usually does, but due to covid postponements, the SEC didn't begin playing until the last weekend in September, which is when it felt like the season really got going. That Saturday there were two catastrophic upsets that altered the national championship picture. The first was when 28 and a half point underdog Kansas State pulled the biggest point spread upset of the season by beating Oklahoma during the noon slate of games. This upset seems just as shocking now as it did then as the Sooners went on to win the Big 12 title with an 8-2 record and Kansas State struggled through a 4-6 campaign. This upset also had the biggest impact on the national championship picture as a one-loss Oklahoma team would have likely earned the fourth seed in the college football playoff after Notre Dame's blowout loss to Clemson. Later that same day, Mike Leach's Mississippi State Bulldogs shocked the college football world by putting up over 600 yards passing and 44 points against the defending national champion LSU Tigers in Death Valley. Sadly, this game didn't have the lasting impact that many, including myself, would have liked as both teams struggled through difficult seasons after this matchup. Still, this victory was monumental at the time and established my man Leach as a force to be reckon with in the SEC.
4. Dustin Johnson wins the Masters (November 15, 2020)- DJ has always been one of my favorite golfers as he grew up in the same state as me, around the same time as me, and is a big South Carolina Gamecock fan. I am also a big Wayne Gretzky fan, so the fact that he is married to his daughter is just icing on the cake. This wasn't his first major triumph, which is why it isn't higher on the list, but seeing him win at Augusta, especially in record-setting fashion was certainly of the highlights of my sports year.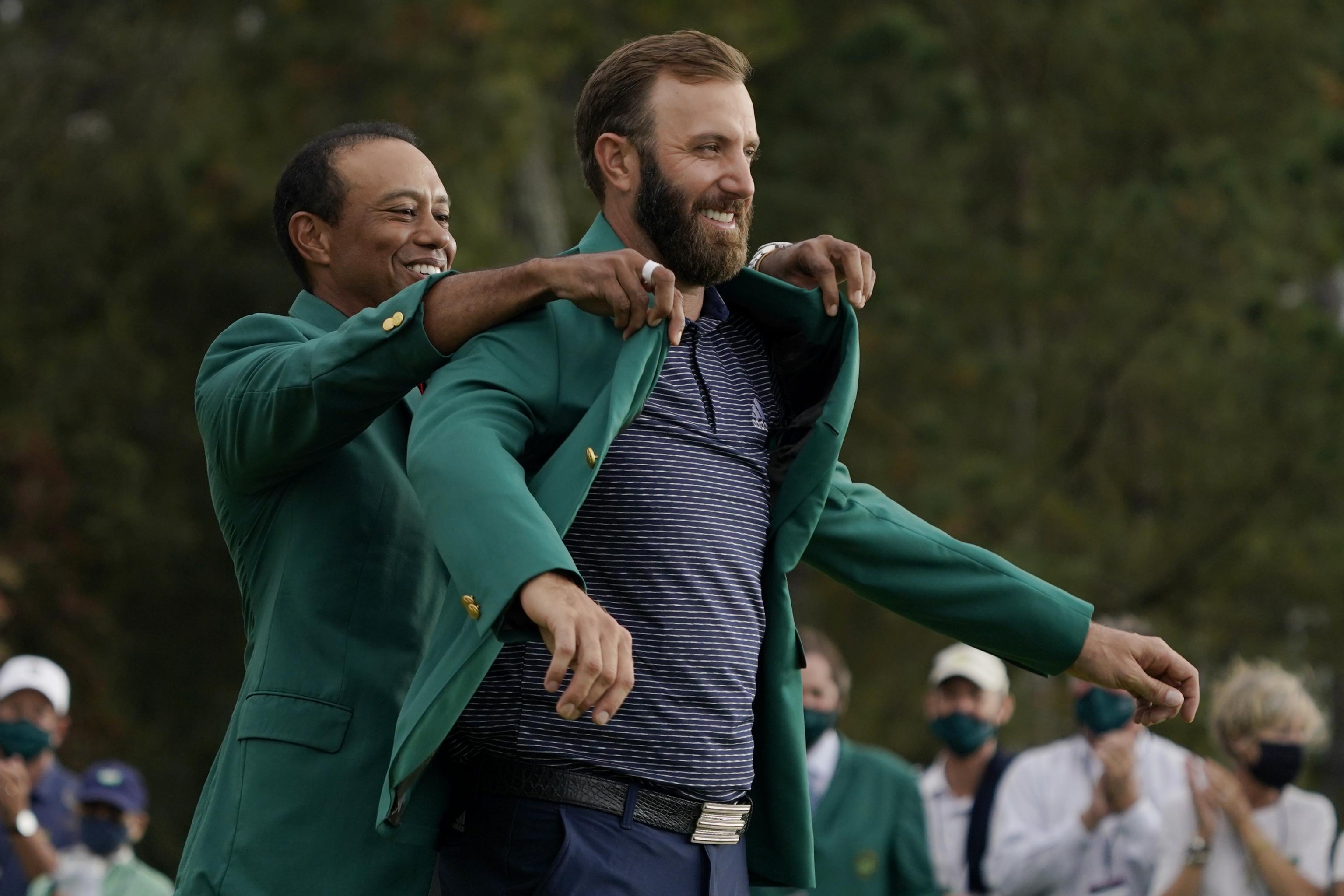 5. Streak-ending Saturday: South Carolina football beats Auburn for the first time since 1933 and Kentucky football beats Tennessee on the road for the first time since 1984 (October 17, 2020)– As most of you know, my holy trinity of college sports teams are: Wake Forest (my alma mater), Kentucky (the team I was born into and location of my first childhood home), and South Carolina (my dad's alma mater and the location of my second childhood home). That is why when two of those teams pull off historic achievements on the same day, it is a big deal for me. The South Carolina Gamecocks have only played Auburn 13 times in football given the fact that the two teams were not in the same conference until the 1990's, and they were never in the same division within that conference. With that being said, the Gamecocks had lost eight straight to Auburn (including two heartbreaking losses to the Cam Newton-led Tigers in 2010) in a streak that dated back to 1933. Nevertheless, the Gamecocks found a way to win a thriller in Williams-Brice over Auburn this past fall, which served as both the lone bright spot of the Gamecock's season and Muschamp's last victory before being fired as the South Carolina coach less than a month later. Simultaneous to this big win, the Kentucky Wildcats dominated the Tennessee Volunteers by a 34-7 margin in Knoxville, breaking a 17 game road losing streak to the Vols that dated back to 1984. Two great accomplishments from two of my favorite teams that occurred within minutes of each other.
6. LSU beats Clemson in the College Football National Title Game (January 13, 2020)– LSU is definitely not one of my favorite teams, let's get that straight from the start; however, I have always had a great amount of affection for the comical and cartoonish Ed Orgeron, and I despise Clemson football more than any other organization besides maybe Duke basketball and Al-Qaeda. That is why LSU's triumph and Clemson's simultaneous demise ends up on this list. And if Clemson loses in the playoff either this weekend or on January 11th, that moment will likely land on the best sports moments of 2021 list as well.
7. Wake Forest basketball fires Danny Manning and hires Steve Forbes (April 25, 2020/April 30, 2020)- This is really two moments rolled into one, but they are interconnected in a way that makes sense to consolidate. Danny Manning was a great basketball player, a great person, and might one day be a great coach. However, he was not a good fit at Wake Forest, and no program needed a culture change more so than my Demon Deacons. Unfortunately, even after six seasons and zero appearances in the 64 team NCAA tournament bracket, it appeared that Manning may survive one more year due to the Covid-19 budget cuts. However, athletic director John Currie, decided to do what no other major conference athletic director did this past spring and make a coaching change for the men's basketball program. The impeccable timing of this allowed the Deacs to have their pick of the litter among the best mid-major head coaches out there, and Wake hired basketball lifer Steve Forbes who has brought a renewed energy and enthusiasm to a program that has been in dire straits since the death of Skip Prosser in 2007.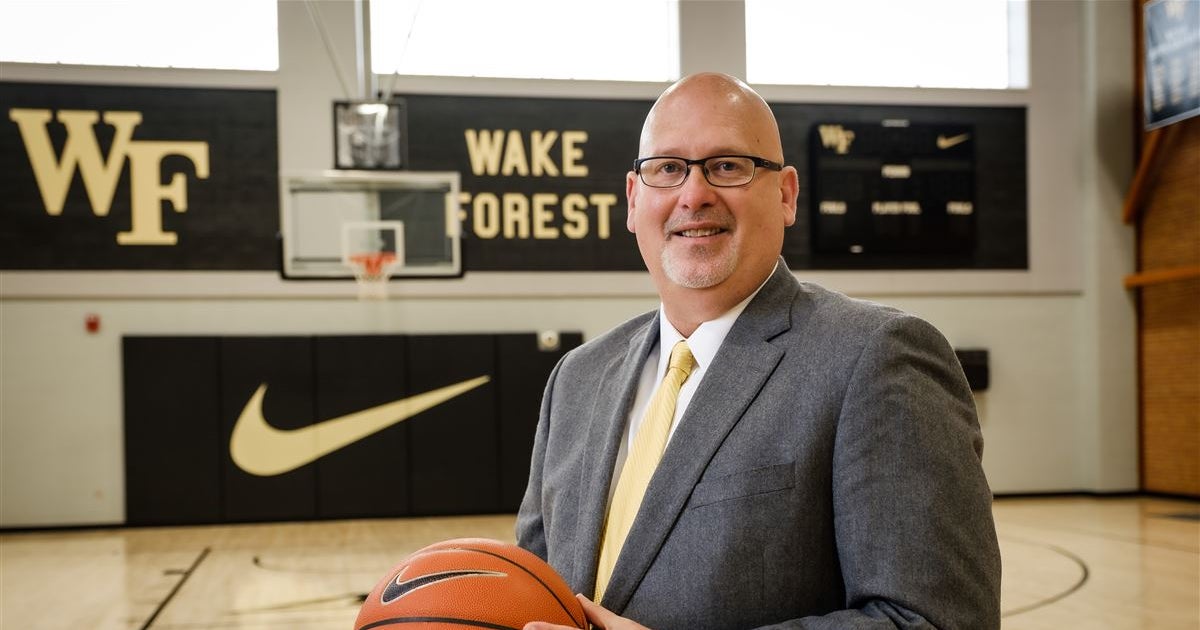 8. Wake Forest basketball upsets # 7 Duke in double overtime (February 26, 2020)- Just after I get done bashing Manning, I have to commend for his last great victory at Wake Forest. Before his departure, he was able to architect a fitting swan song for senior Brandon Childress who led the Deacs to a come from behind 113-101 victory over Duke in double overtime. This was Wake's first victory over Duke in six years and by far the biggest victory of the Danny Manning era. One disturbing streak against Duke still stands though, Wake has not won a game in Cameron Indoor Stadium since Tim Duncan's senior season in 1997. Here's hoping that Wake can finally put that one to bed in their upcoming January 9th game at Duke, without fans present.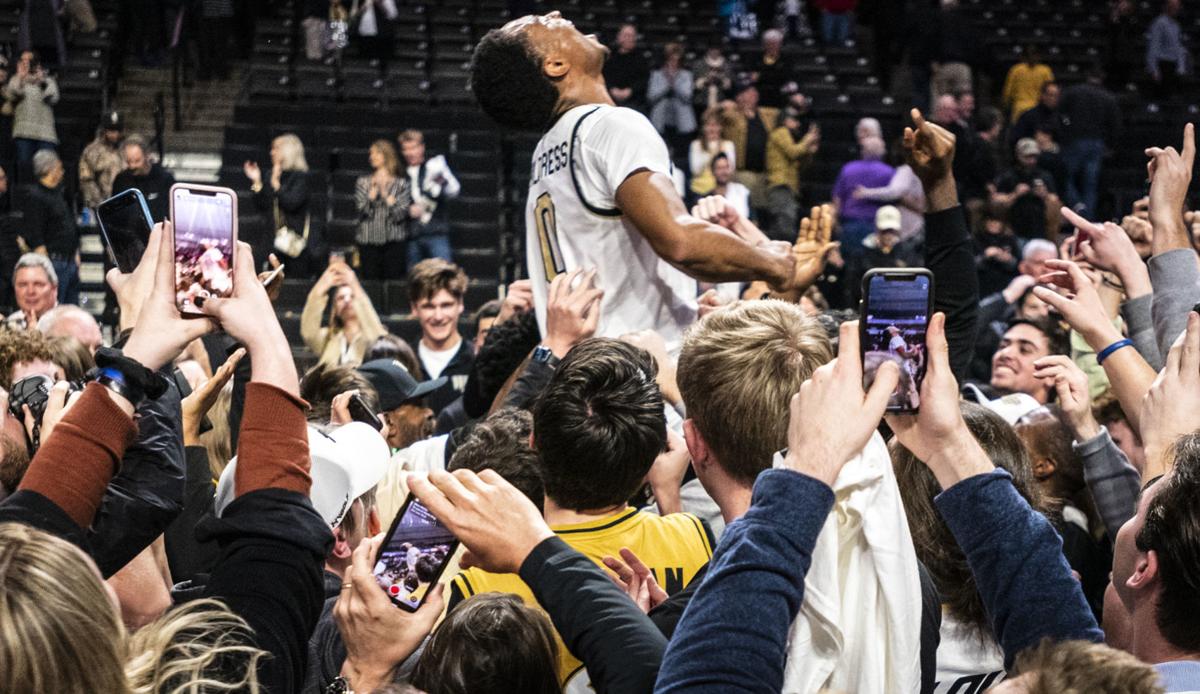 9. Team Matthews wins 3 Fantasy Football Championships (December 28, 2020)- The last couple of best moment entries each year always contain personal accolades outside of the mainstream sporting realm. I apologize in advance for that, but this is my list, not yours, and I am going to put on here my favorite sporting moments of the years, regardless of their mainstream significance. That is why I have to acknowledge the first fantasy football season in which I have won three different league championships. I have won two league titles on two different occasions (2014 and 2017) but never a triple crown. I broke through to win this season, partially because I played in the most leagues I ever have (8), but also become I was able to win two nail-biting super bowls that came down the final minutes of the Bills/Pats Monday Night football game. I ended up beating my co-worker Sean by a total of 0.14 points (only because the Bills benched Stephon Diggs early in the 4th quarter) and besting my other work associate Tim by 2.48 points because Tyler Bass didn't kick a second half field goal.
10. Singles tennis team wins local league championship (February 22, 2020)- Another personal triumph here… I have been an active participant in the United States Tennis Association's adult league play for over a decade now but had not won a local league championship since I captured a North Carolina mixed doubles state championship in 2010, and I had never won a league championship as a team captain. This year I was able to break through with three local championships: one in the singles league, one in the combo doubles league, and one in the spring league. Also, the first two of these titles I was the team captain for, and in both cases, our squads had to pull out nail-biting final matches to win championships. Sadly, none of my three local championship teams had the opportunity to play for a state title as covid-19 cancelled all USTA state championships in 2020.  
You will see there are more Covid cancellations to be featured in my 2020 worst sports moment list below…
Worst Moments:
1. March Madness gets canceled (March 12, 2020)- Now to the bad news in sports.  These are the moments I would like to forget, but that I do think are important to commemorate in this annual blog entry, as most of the time the losses hurt more than the wins feel good.  The top moment on this list though isn't a loss within the arena of a competition. Sadly, it was much worse. If the timing of the coronavirus had been different, this wouldn't have affected me like it did, but because Covid-19's arrival to American came the week the NCAA tournament was to begin, which is my favorite week of the entire year, this hit me like a ton of bricks. There were sporting cancellations after this that there were also difficult to take and to understand that could have also been featured on this list (i.e. Wimbledon, the British Open, the college baseball season, etc.), but this one felt like over night the world had just decided to cancel Christmas. And in my world, that is exactly what happened. This might go down as the worst sports moment of my entire life…however, some people had it even worse than I did. A friend of mine is a Dayton alum that had waited his entire life for this once in a lifetime opportunity for this team to contend for a national championship. And then, all of a sudden, there was no national championship to contend for… so sad, on so many different levels.
2. Los Angeles Lakers win NBA Finals (September 26, 2020)- The LA Lakers have always been my most hated NBA franchise since their late 1980's rivalry with my man Larry Bird and the Boston Celtics. I also haven't liked Lebron James ever since he bailed on the Cavs to join his super team in Miami. I, especially hate him now since a growing faction of fans are begin to believe he is a better player than Michael Jordan, which is pure sacrilege. That is why when Lebron James joined the Lakers a couple of years ago, they easily became my most hated pro sports team, even though co-star Anthony Davis was one of my favorite Kentucky Wildcat players. Their title run this year was especially disheartening because they were able to coast through the bracket by avoiding all of the teams that were capable of beating them: the Clippers, the Bucks, the Celtics, etc.
3. Thanksgiving Weekend Massacre in College Football: Northwestern gets upset by Michigan State, Notre Dame stamps bid to playoff with win over UNC, Oregon upset by Oregon State, and Kentucky and South Carolina get blown out by division rivals (November 27/28, 2020)– It seems like there is one weekend every year in college football where everything that could go wrong does go wrong, and I wonder why I like this sport as much as I do. Unfortunately, that weekend is often the weekend of Thanksgiving because that is traditionally rivalry weekend when South Carolina loses to Clemson, Michigan loses to Ohio State, Washington State loses to Washington, and all the feel -good Cinderella stories of the year come to a screening halt. That was definitely the case this season, as even though we didn't have a traditional rivalry weekend due to Covid-19 scheduling changes, all of the outcomes I was dreading seemed to occur simultaneously. I was hoping undefeated Notre Dame would lose to North Carolina, opening the door for a possible Cincinnati playoff bid. It didn't happen. Likewise, Oregon's national title hopes were dashed at the hands of arch rival Oregon State. The Power 5 feel-good story of the year, Northwestern, saw its dream season fade away thanks to an upset loss to Michigan State. Finally, Kentucky got dominated by Florida, after beating the Gators two years ago and nearly beating them last season, and South Carolina got destroyed by Georgia, a team it beat in 2019. It was a rough weekend to say the least…
4. Los Angeles Dodgers beat the Tampa Bay Rays to win the World Series (October 27, 2020)- I don't hate the Dodgers like I do the Lakers (see worst moment # 2 above), but they are a team that I annually cheer against because they stand for all the things wrong with Major League Baseball (stacked rosters, no salary cap, buying victories, etc). With that being said, I was also a big fan of the upstart Rays this season who stood for all that is good in the sport (team over individual, low-budget roster, unique pitching strategies, underdog story, etc.). I knew it was unlikely for the Rays to knock off the Dodgers, but I had hope for the upset after the Rays won game 4 in stunning come-from-behind fashion. Alas, it wasn't meant to be, as the Dodgers won games 5 and 6 and denied America a truly inspiring sports story. The game 6 loss was especially disheartening because of the Rays' inexplicable pulling of their best pitcher Blake Snell in the fifth inning (see photo below).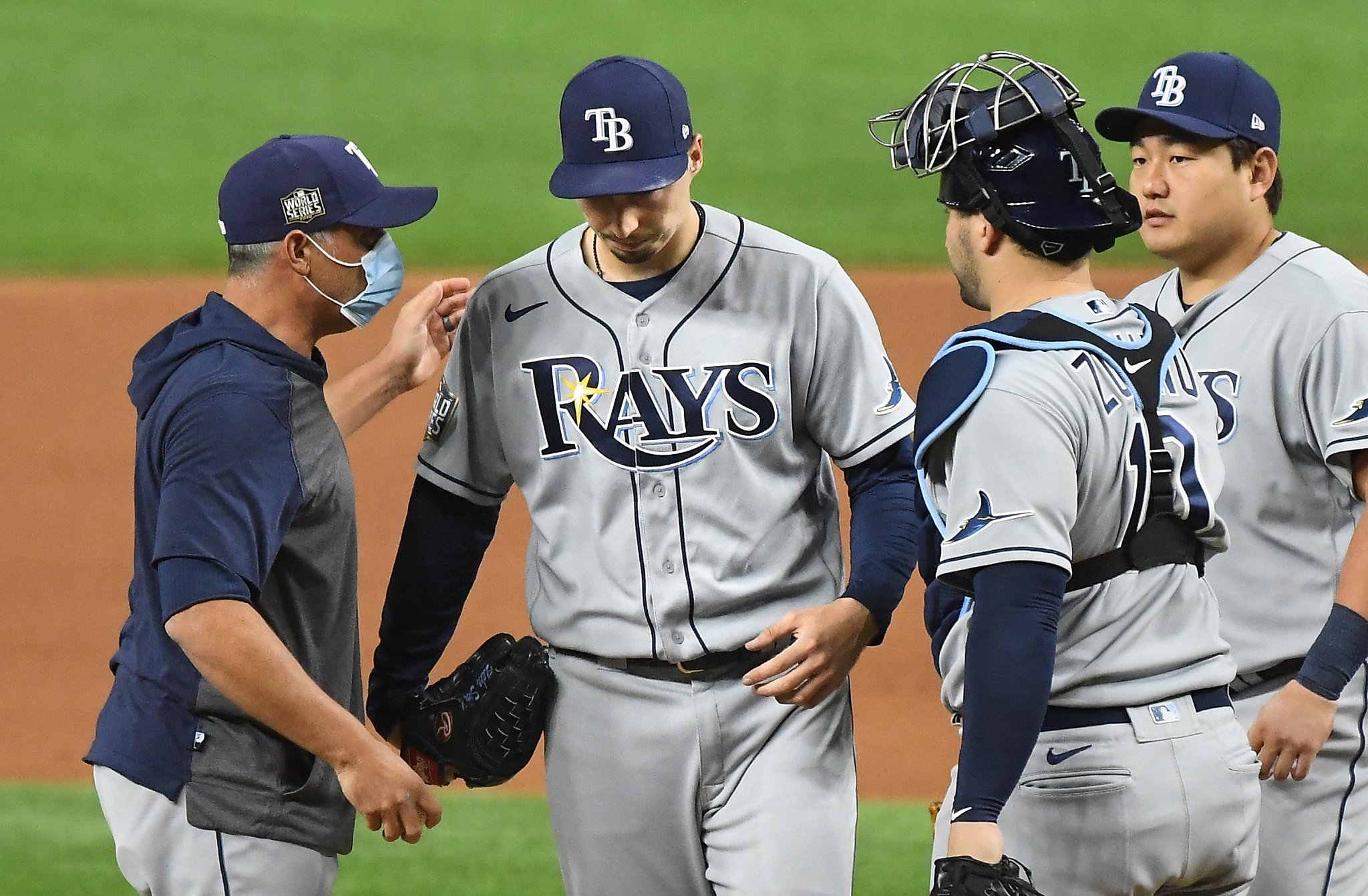 5. Heartbreak Saturday: Mississippi State, UCF, and Kentucky all get upset in gut-wrenching fashion (October 3, 2020)- As discussed in worst moment # 3, there are always weeks every college football season where everything goes wrong that could go wrong. Those often follow weeks where everything goes right, which is what we have here. Just seven days after my best moment # 3 we get my worst moment # 5. The college football universe seems to always do this to me. Just when when everything seems right with the world (Mississippi State upsets LSU , Oklahoma gets knocked out of the national title race, etc), it all comes crashing down just a week or two later. In this case, my Mike Leach Mississippi State team got stunned at home by Arkansas, who no one realized at the time was halfway decent. The Bulldogs became the first team in college football history to lose a game as a 17+ point favorite just a week after winning game as a 17+point underdog. The fact this upset loss came as a result of a muffed putt and several other miscuses made this moment that much worse. Also, that very same Saturday, Kentucky lost an overtime heartbreaker to Ole Miss, and my UCF Knights saw their New Years Six hopes go down the drain which a home loss against Tulsa. Definitely a rough day in the office…
6. Indiana and Coastal Carolina get screwed out of New Year's Six Bowls (December 20, 2020)– Its been an annual tradition of mine for almost a quarter of a century now. Every year when the pairings to the New Year's Bowls (previously BCS) get announced, I rant and rave about how deserving teams get unfairly left out of these bowls in favor of schools that have more mainstream marketability. That was definitely true again this season Indiana (whose lone loss came at Ohio State in a close game) and undefeated Coastal Carolina were bypassed for New Year's Six Bowls so that a three loss Iowa State team could get a Fiesta Bowl bid instead. To make matters worse, Coastal Carolina and Iowa State have a common opponent in UL-Lafayette and Coastal beat them on the road while the Cyclones lost to them at home by double-digits. College football is truly the most bigoted and unfair sport in the world, and this snub job is exactly why. The man pictured below, Bill Hancock (former BCS Commissioner, now executive director of the CFP), is largely responsible for that.
7. Aaron Gordon gets screwed out of NBA Slam Dunk Contest (February 15, 2020)– Speaking of screw jobs, the only one that is comparable in size to the aforementioned College Football Playoff decision, is Aaron Gordon's loss in the NBA Slam Dunk Competition. I am a big fan of this annual competition, but rarely do I get as emotionally involved in it as I did this year. That is because on two separate occasions (2016 and 2020), Gordon has gone out there, proven to be the best dunker in the contest, and has come in second place both times. In 2016, Gordon hit multiple dunks over a mascot just to get beat by Zach LaVine, the defending champion, who failed in his effort to dunk from the free throw line. This year he got swindled even worse as Gordon dunked over 7'8″ Tacko Fall just to see three judges immediately conspire against him to make sure he lost. The leader of that conspiracy was Dwayne Wade who was clearly on a mission to make sure fellow Miami Heat alum Derrick Jones took home the title. There hasn't a screwier sports judging controversy since Roy Jones Jr. was jobbed out of an olympic gold medal in the 1988 Summer Olympics.
8. Coastal Carolina loses overtime heartbreaker against Liberty in the Cure Bowl (December 26, 2020)– The Chanticleers had the season of a lifetime and by far their best season in any sport, aside from their 2016 College Baseball National Championship. Still, I can't be a little bitter in how it ended as Coastal was denied an undefeated by losing a heartbreaker to Liberty on a blocked field goal in overtime (see picture below). I hate to second guess the AP Coach of the Year Jamey Chadwell, but the Chants should have stuck to their guns and run the ball on second and third downs during their offensive overtime possession instead of forcing the ball downfield. I think this game will go down as the best game of the bowl season, but I just wish that the outcome was reversed.
9. Wake Forest blows two touchdown lead to Wisconsin in Duke's Mayo Bowl loss (December 30, 2020)- This is another event from just a few days ago as the recency bias may be in effect here. Still, this game was a chance for my alma mater to get a win over a national powerhouse, and they blew a golden opportunity. Not only did my Deacs jump out to a 14-0 lead in the first few minutes of the game, but they ultimately outgained the Badgers by a massive 518-266 yard margin. Turnovers ended up being Wake's undoing as Sam Hartman had the worst game of his career by throwing four interceptions, three of which came during critical fourth quarter possessions. This was a disheartening result for a team that usually plays very well in bowl games.
10. Choke Job Saturday: Wake Forest, South Carolina, Arizona, and SMU all blow fourth quarter leads in losses (November 14, 2020)– As upsetting as moment # 9 on this list was for Wake Forest's fans, Wake's most disappointing loss of the year came on November 14th when they blew a 24 point second half lead to North Carolina. The Deacs seemed to have the game in hand, which would have denied the rival Tar Heels their berth in a New Year's Six Bowl, but the Wake offense stalled and UNC's Sam Howell caught fire as the Heels scored 35 unanswered points in the third and fourth quarters to win 59-53. That wasn't the only bad outcome of that Saturday though. South Carolina also held a fourth quarter lead on the road against Ole Miss, just to see it evaporate in a 59-42 defeat that coast Coach Will Muschamp his job a day later. Meanwhile, SMU's Cinderella season took a turn for the worst as the Mustangs blew a 24-14 fourth quarter lead to lose by four to Tulsa. Finally, Arizona had a great opportunity to knock off undefeated Southern Cal but had those dreams dashed with a final minute Trojan touchdown drive that featured a deflected reception on a ball that should have been intercepted.