Each season, I chronicle the potential March Madness Cinderella Stories by writing two articles that detail teams across that could become a feel-good story come March. The first article is written around the midpoint of the season (late January/early February) and the second is published just as the conference tournaments begin. Here is the first of those two annual editions.
While almost all mid-major college basketball teams have the chance to play Cinderella come Christmas Day (aka the first round of the NCAA tourney), it is particularly special when these teams have an inspiring sentimental storyline.  Often times this involves a squad making its first trip to the Big Dance (see Northern Colorado in 2011).  Other times there is a likable coach who warms the hearts of the nation (see Pete Carril in 1994, Andy Enfeld in 2012).  Inevitably, when the second week of March comes around, these stories will come to fruition.  In the meantime, it's worth looking at the standings and checking out which mid-major conference leaders/contenders and other probable NCAA Tournament teams could inspire us during the first few weeks of March.  Only teams currently in first or second place of their respective conferences or squads currently in the hunt for an at-large bid will be included in this column.  They are listed in alphabetical order by conference.
Longwood (Big South)– The Lancers have never danced in school history and are probably best known for producing the founding chapters of four different national sororities (Kappa Delta, Sigma Sigma Sigma, Zeta Tau Alpha, and Alpha Sigma Alpha). However, this season Longwood sits atop the Big South North standings with a 4-0 conference mark and will challenge Winthrop for conference supremacy in a huge home matchup next weekend.
Towson (Colonial)– My Cardiac Hawks of UNCW currently have a two game lead in the CAA thanks to a 5-0 conference start that has featured five second half comebacks and four upsets. Nevertheless, if the Hawks falter in March, the Tigers of Towson may be the team in best position to win the league crown as they are currently tied for second in conference play and haven't danced 1991.
Louisiana Tech (Conference USA)– Speaking of 1991, that was also the last tournament that the Ragin' Cajuns of Louisiana Tech participated in. Nevertheless, the "Dunkin Dawgs" as they are called, are tied atop the Conference USA standings with a 6-1 league record. Keep in mind, however, that LA Tech has appeared on this list the past two years and has failed to earn a bid in either of those seasons.
Toledo (MAC)– Every year when I write this column, I am always shocked to see that this team still hasn't played in an NCAA tournament since 1980. The Rockets always seem to field solid MAC teams that fall just short of the conference crown. In fact, last season, Toledo was the heavy favorite to win the MAC tournament but lost in the semis to the eventual champion, Ohio. This season, the Rockets have already gotten revenge on the Bobcats by blowing them out on the road last Friday night to take over first place in the MAC standings one more time.
Loyola-Chicago (Missouri Valley)– Gone are Porter Moser and Cameron Krautwig, but the Ramblers still have Sister Jean and a NET ranking that at this point will assuredly earn them an NCAA tournament at-large bid (26). And if the Ramblers and Sister Jean do make this tourney, then there won't be a better story then Sister Jean going for a third deep NCAA tournament run in the past five seasons, this time at the age of 101.
Missouri State (Missouri Valley)– While Loyola is still the team to beat in the Valley, the second place team in the league is the Missouri State Bears who just beat Loyola by ten points on the road. Surprisingly, this program hasn't played in an NCAA tournament since their Cinderella run to the Sweet 16 in 1997 when they were named Southwest Missouri State.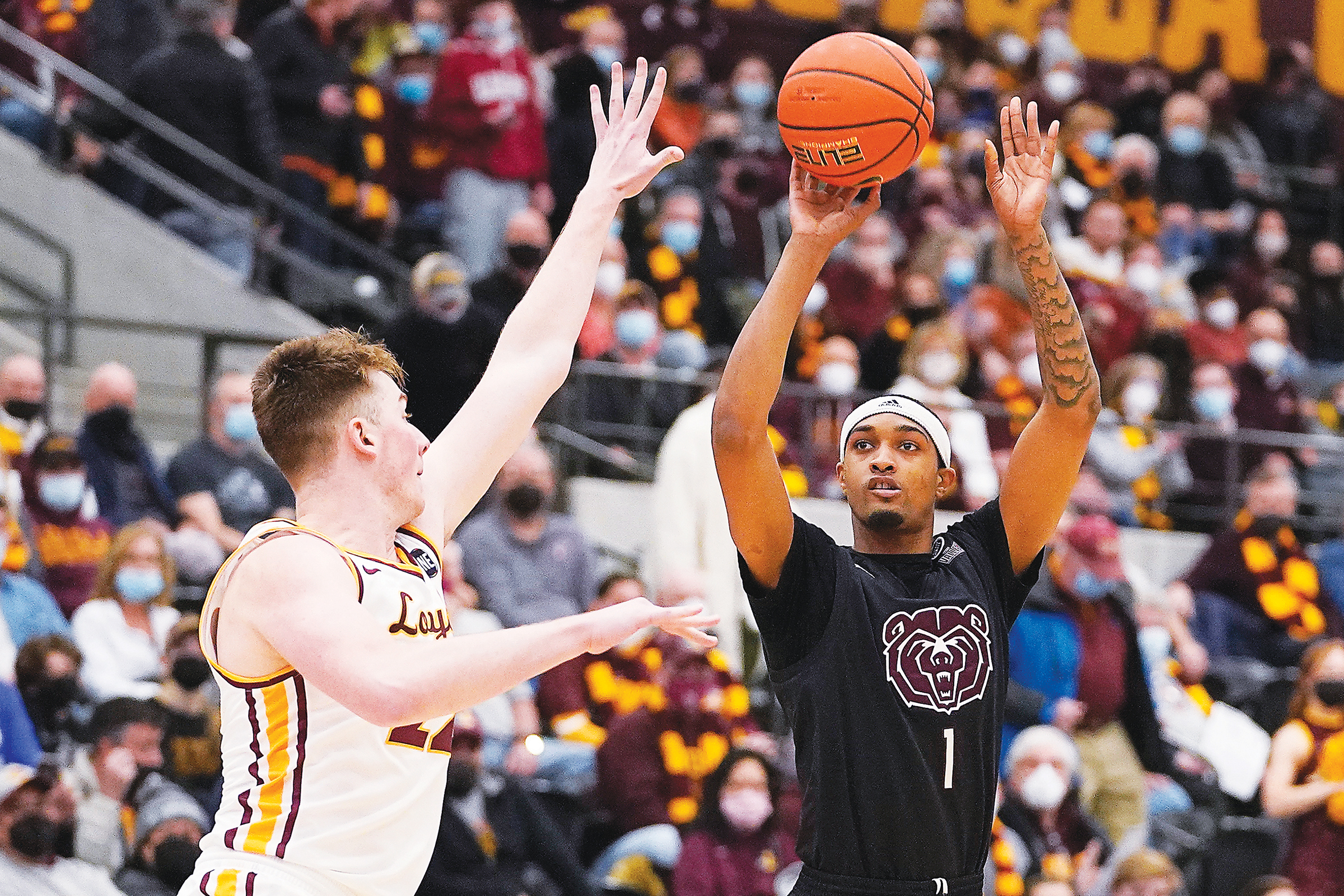 Bryant (Northeast)– The Bulldogs of Bryant have been an emerging power in the NEC for a few years now, but they still haven't earned their first NCAA tourney bid in school history. In fact, last season Bryant lost a heartbreaker in the conference tourney final at home to Mount Mt. Mary's. Their luck could change this March, however, as the Bulldogs currently sit alone in second place in the league standings, just a game back of league leading Wagner.
Army (Patriot)– Could this be the year?  The Black Knights are one of the original four NCAA teams that have been apart of Division 1 since the tournament's inception in 1939 but have never garnered an NCAA tourney bid (William & Mary, Citadel, and St. Francis-Brooklyn are the others).  Nevertheless, the Black Knights are currently tied atop the Patriot League standings thanks to a an incredible road victory against arch rival Navy on Saturday in which they came back from 27 points down to win in overtime.
Furman (Southern)– Speaking of lengthy NCAA tournament droughts, the Paladins haven't danced since 1980, despite being a upper echelon SoCon team for the better part of the last decade.  This year, Furman currently trails league leader Chattanooga by just a half game in the Southern conference standings.
Mercer (Southern)– The Bears are currently tied with the aforementioned Furman ssquad for second place in the SoCon, and even though, they have danced a lot more recently than the Paladins, they are still looking for their first tourney bid since their epic 2014 upset win over Duke, which I witnessed in person (celebration below).
Houston Baptist (Southland)– The Huskies of Houston Baptist danced way back in 1984 before dropping all the way down to NAIA play from 1991-2008 and then returning to Division 1 after that. Now, they are tied for second in a wide open race for the Southland Conference championship and their first tourney bid in my lifetime.
Grambling (SWAC)– Speaking of wide open conference races, there are few leagues that are as open as the SWAC. Perennial conference favorites Texas Southern and Prairie View are having down seasons, so that has opened the door for new blood like Grambling to rise to the top. Currently, the Tigers are tied for second in the league race, and despite all of their football greatness over the years, this school has never earned an NCAA tourney bid.
Oral Roberts (Summit)– The Golden Eagles were the mid-major story of the tourney last year as they came within a shot of becoming the first 15 seed ever to make it to the Elite Eight. Now, even though star big man Kevin Obanor has transferred to Texas Tech, leading scorer Max Abmas (pronounced Ace-mas, pictured below) is back to try to take the Eagles on another magical run in March. Currently, Oral Roberts is alone in second place in the Summit, trailing only South Dakota State in the league standings.
Arkansas State (Sun Belt)– The Red Wolves have not danced this century, as their last tourney bid came back in 1999. However, Arkansas State is poised to end their tourney drought in 2022, as they sit alone atop the Sun Belt standings with a 4-1 mark in conference play.
San Francisco (West Coast)– The Dons haven't danced since 1998 when they lost to a Utah team that ended up as the national runner-up that season. Admittedly, no one from this conference has danced much since then, as Gonzaga began its reign of terror in the WCC the following season and have won 18 out of the last 23 conference titles since then. And even though Gonzaga seems to have this year's WCC title on lockdown as well, San Francisco is in great position for an at-large bid with a 15-4 overall record and a NET ranking of 35. Currently, the Dons are the top 11 seed in my NCAA tournament bracket projection.
Seattle (WAC)– The aforementioned Arkansas State squad are not the only Redhawks looking to make some noise this March. The Redhawks of Seattle are also having a magical season en route to potentnially ending a lengthy tourney drought. Seattle U was an NCAA basketball powerhouse in the 50's and 60's as Elgin Baylor led this squad to an NCAA title game in 1958. However, they haven't played in an NCAA tourney since 1969 and dropped down to NAIA play in 1980. Nevertheless, the Redhawks have been back in Division 1 since 2008 and seem poised for their first tourney trip in over 50 years, as the currently sit atop the WAC standings with a perfect 6-0 record in conference play.