In 2020, after the cancellation of the NCAA tournament, I used the time I typically spend watching the tournament to conduct several historical analyses of past tournaments. The first such analysis I performed was creating a list of the greatest ncaa tournament for every season. There are many online lists that rank NCAA tournament games over the years, but I could not find one that selected the best game in every single tournament and then analyzed the results to determine which teams are involved in the best games and also which rounds produce the best matchups.  I published that list in April of 2020 and have updated that list with the results of every tournament since then.  I took into account several factors when determining which game was truly the best for a particular NCAA tourney, including the game's significance in determining the eventual champion, the improbability of the final outcome, and the overall excitement of the game.  Without further ado, here is my selection for game of the year for every NCAA tournament that has been played.  The games in bold I have rated as best of the decade, and the ones with asteriks went into overtime.  Feel free to comment or debate.
This was a bad debut tourney as every game was decided by double digits. Glad they decided to keep playing this thing!
Phog Allen's (pictured above) Jayhawks win first close game in the history of the Final Four.
Badgers survive homecourt scare to make run to school's first and only national title.
Cats overcome halftime deficit thanks to poor foul shooting from the Illini.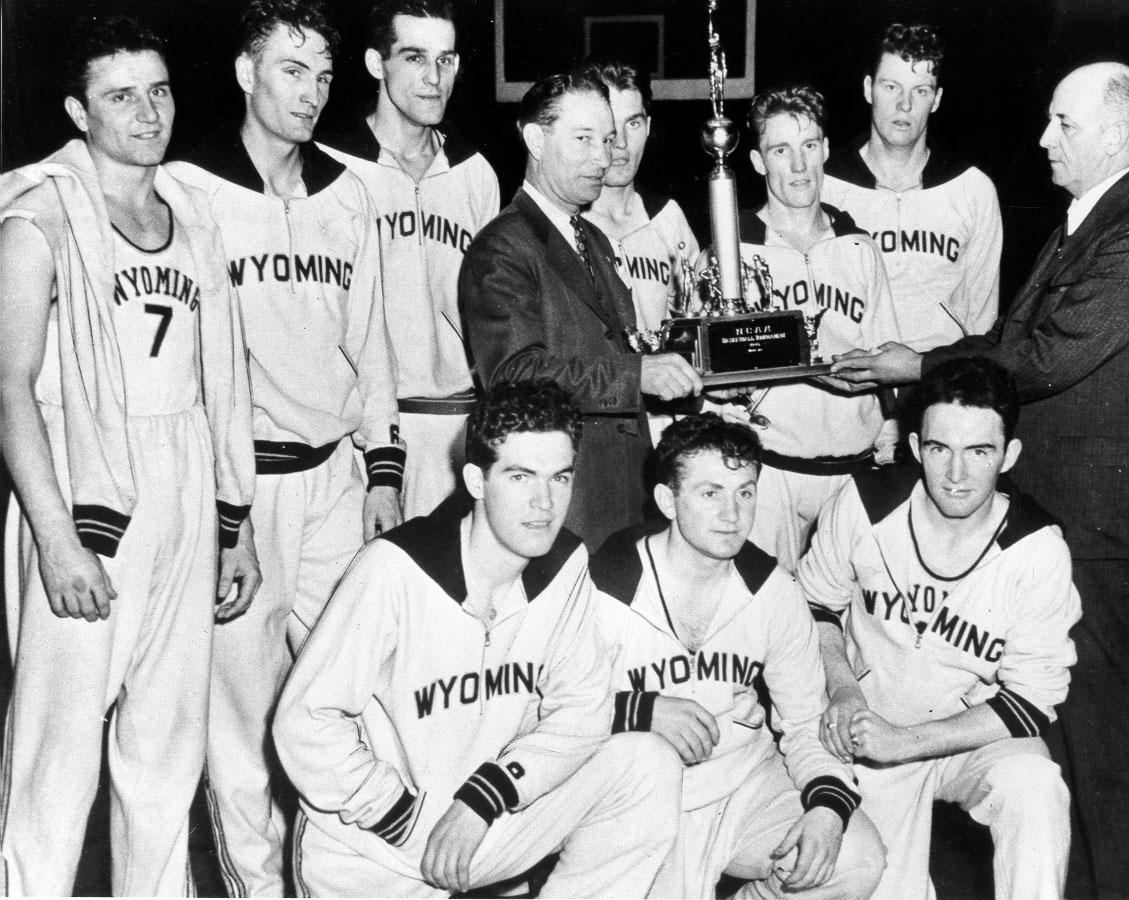 Cinderella Cowboys only got a tourney bid when Arkansas withdrew due to a car accident involving several members of the team.
Eight point underdog Utes pull off upset thanks to Herb Wilkinson's game winner.
The Violets, as they were called, erased a 10 point deficit with two minutes to go to win in overtime. The star of that team was Ray Lumpp (pictured above).
Cowboy center Bob Kurland executes first the two dunks in NCAA tourney history en route to title.
This was the biggest Red River Rivalry basketball game ever played. The Sooners won on Ken Pryor's jumper from the wing.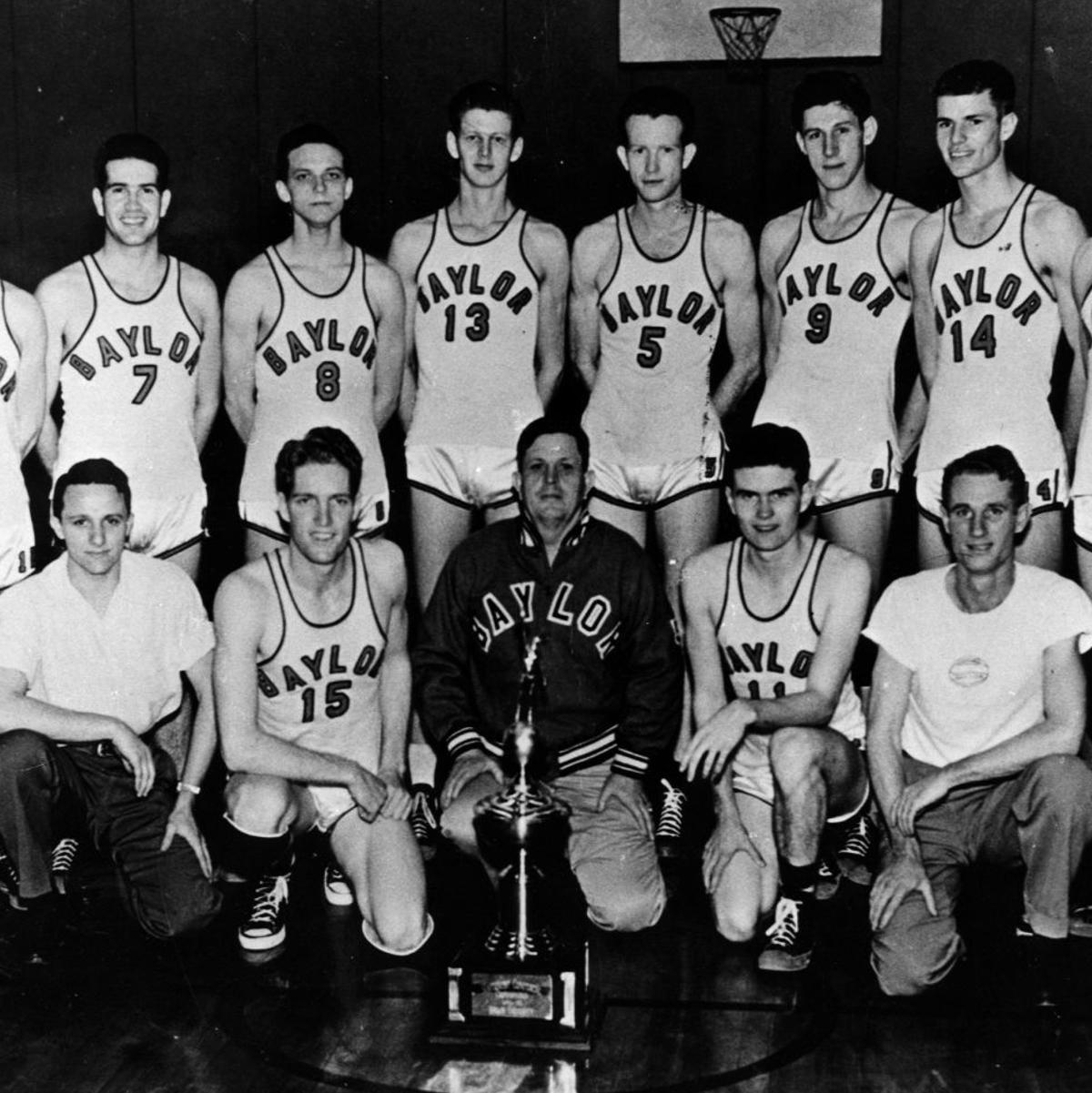 This was the only close game of entire tournament.
Jack Shelton's game winner propels Henry Iba's Cowboys on run to national title game.
Lovable team of New York locals wins title thanks to Irwin Dambrot's block in the game's final seconds.
Cats overcome 7 point halftime deficit to come back and win on Shelby Linville's game-winner.
Incredible upset of the top ranked team especially considering the Cats won the regular season meeting by 41 points.
Bobby Leonard hits game winning free throw with 27 seconds left to give Hoosiers their second national title.
Fran O'Malley buzzer beater sends game in OT for Explorers, setting tone for national title run.
Clutch rebound by Bill Russell seals final four trip for Dons en route to their first national title.
Hal Lear sinks two free throws with two seconds left to send the Owls to their first Final Four.
UNC unbelievably wins back-to-back triple overtime games, the latter of which was against Wilt Chamberlain's (pictured above) Jayhawks squad, to clinch the school's first national title.
Vernon Hatton's layup with 16 seconds left gives Cats' victory en route to their fourth title.
Bears' tip-in with 17 seconds left knocks off Jerry West's Mountaineers.
Head Coach Lou Rossini (pictured above) puts in seldom used Jim Reiss to hit game winner in overtime.
Bearcats slowed down the tempo against the Buckeyes to pull off monumental upset.
Bearcats beat Bruins with jumper in final seconds en route to second consecutive national title.
Ramblers overcome a 15 point second half deficit to win with tip-in in final seconds.
Bruins make late game comeback after cheerleaders, who had their flight delayed, arrive with 7 minutes left to go in the second half. UCLA goes on to win their first national title the following day.
Controversial walking call down the stretch costs Vandy a trip to its first Final Four.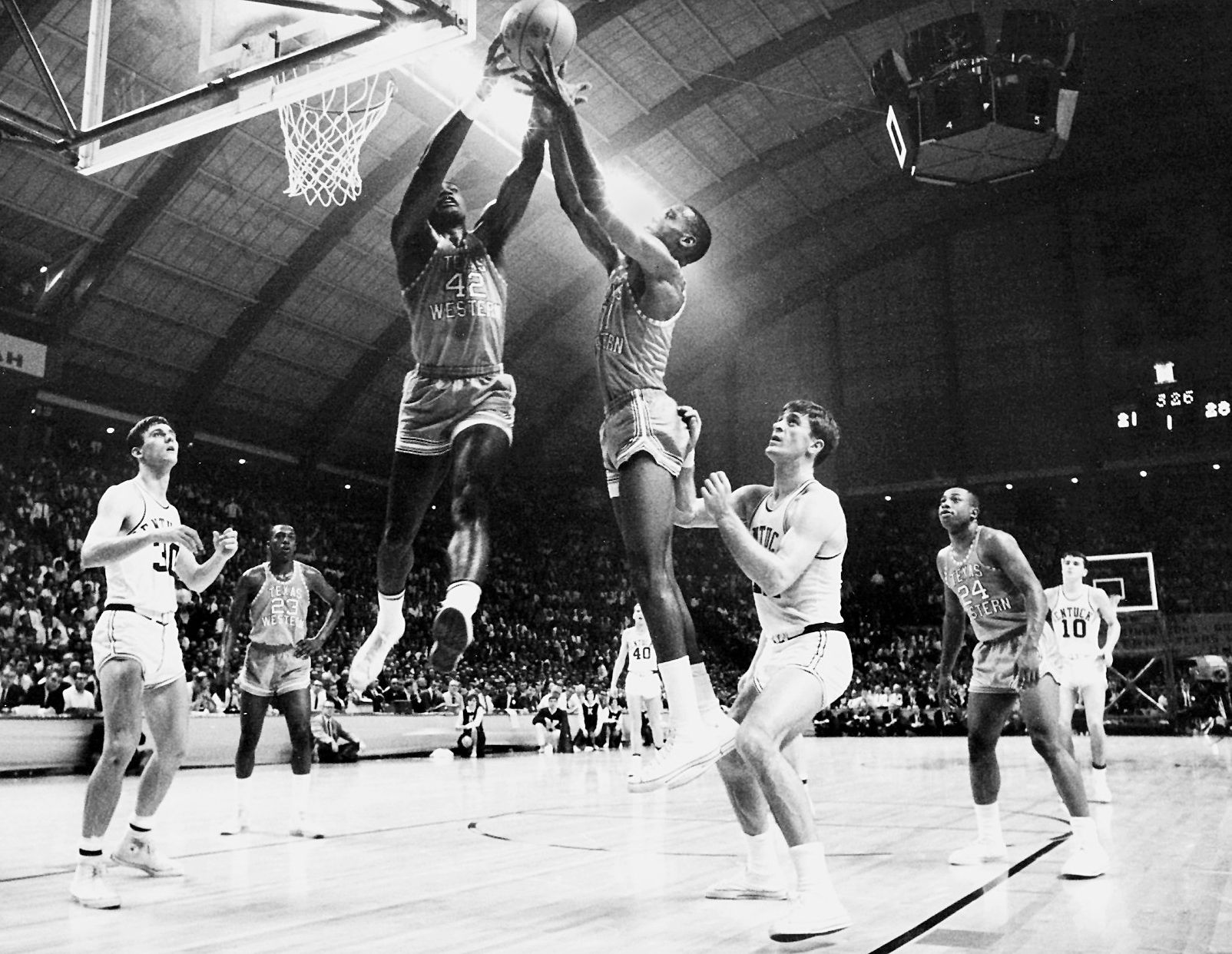 The movie "Glory Road" is based on Texas Western's (now UTEP) Cinderella win over the Cats.
Fans stormed the court after Flyers make late ten point comeback to earn Final Four berth.
"Sunshine" Sorenson (pictured above) hits bank shot game winner to knock off the third ranked Cats.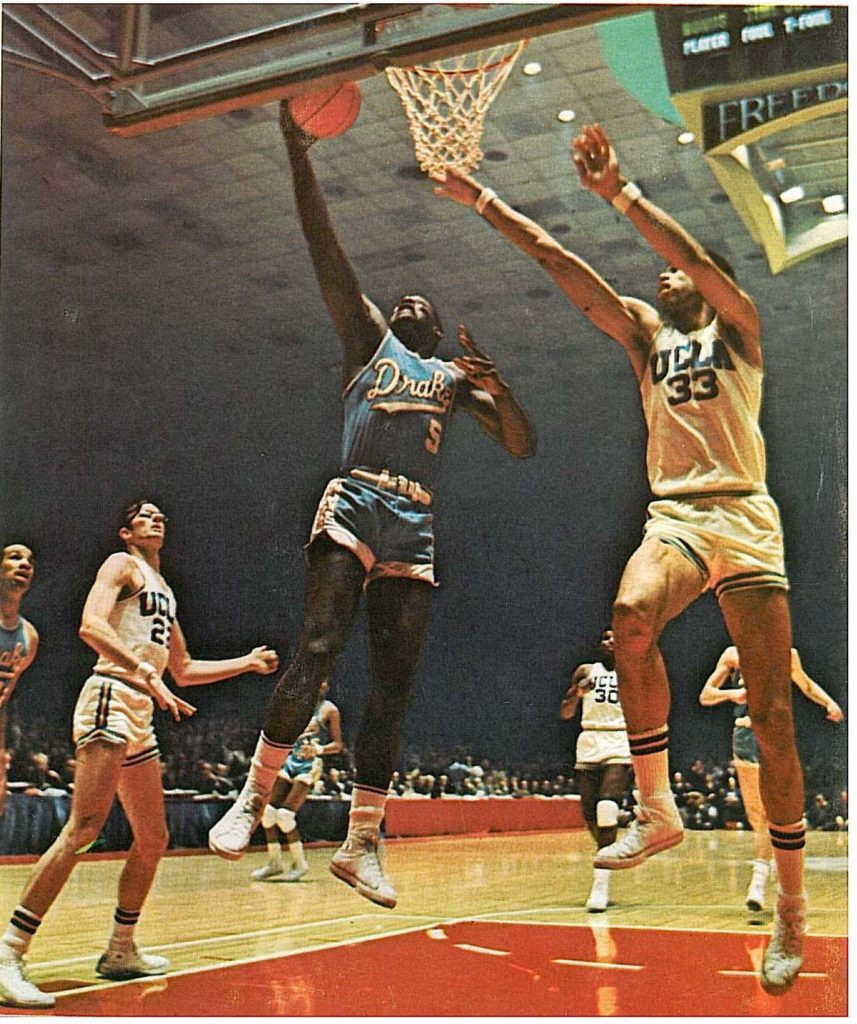 Drake had a shot in final seconds to pull off a monstrous upset.
Artis Gilmore (pictured above) leads Cinderella Dolphins to upset win over top-ranked Wildcats.
A young Jerry Tarkanian gives UCLA its biggest scare during its seven year reign of terror in college basketball.
Narrow escape launches Cinderella run to title game for the Noles.
A high scoring classic as James "Fly" Williams almost leads Governors to epic upset.
Double overtime classic ends UCLA's seven year reign of terror in NCAA tourney.
Classic game that served as Indiana's only loss in two and a half year span for 1974-76.
Princeton's Pete Malloy misses front end of one-and-one to preserve Rutgers' undefeated Final Four run.
Marquette's Jerome Whitehead catches length of court and then hits wild shot at the buzzer to knock off 49ers in most dramatic fashion.
Huge overtime upset of defending national champion.
One of the most legendary games of all-time even though it wasn't very close.
Kyle Macy (pictured above) misses buzzer beater for the Cats. This is the first of three Kentucky/Duke classics on list.
Ainge's coast-to-coast game winner is an all-time iconic March moment.
The game started in bizarre fashion with Ewing goal tending the first four field goals for North Carolina, and then ended in even stranger fashion with Hoya point guard Fred Brown throwing a pass directly to North Carolina forward James Worthy. In between those moments, some guy named Mike Jordan hit a fairly memorable shot (see picture above).
Greatest title game finish ever with NC State's Lorenzo Charles converting Derek Wittenberg's air ball into an alley-oop dunk at the buzzer.
Carl Tacy's Demon Deacons sent DePaul's Ray Meyer into retirement with this huge upset.
The greatest Cinderella champion of all-time. Nova shot 78.6% from the field and still barely won the title game.
The first of four 11 seed over 1 seed upsets in the history of the tournament (others: VCU in 2011, UCLA in 2021, and George Mason in 2006).
Keith Smart's game winner (see above) gives Bob Knight his final NCAA title.
Danny and the Miracles cap off an incredible Cinderella title run that often gets forgotten amidst all the other epic NCAA title games from the 1980's.
Rummeal Robinson's clutch free throws (pictured above) give Michigan its first and only national title.
The first of Christian Laettner's two iconic elite eight buzzer beaters. (see 1992 for the other)
The first 15 seed to beat a 2.
The greatest game ever played, and the worst sports moment of my life. This game is seriously my most vivid childhood memory.
Chris Webber's boneheaded technical foul for calling too many timeouts robs the Fab Five of a national title.
Thrilling second round upset sends tourney favorite and defending champ home.
This was a wild game that had a little bit of everything, including a Chris Webber style technical foul for too taking too many timeouts with less than five seconds in regulation.
Princeton shocks the defending national champs with a backdoor cut game-winning layup.
Miles Simon leads Arizona to lone national title in thrilling fashion.
Incredible 18 point comeback for Kentucky gives Cats revenge from the 1992 Laettner game. Surprisingly, this is the last time these two great programs have met in the NCAA tournament.
Huskies pull off thrilling upset over a Duke team most thought was unbeatable.
Mike Miller's runner in the lane at the buzzer sets table for Florida's run to national title game.
This thrilling upset was the first 15 over 2 shocker that I watched live.
Kentucky crowd shows they hate Duke even more than rival Indiana, as they raucously cheer Indiana to this upset. Duke's Jay Williams chokes game away with key missed free throws down the stretch.
Hakim Warrick's block seals first and only national title for the Cuse.
Classic Final Four game that Huskies stole with late 12-0 run.
Epic two overtime thriller featuring Patrick Sparks buzzer beater at end of regulation.
Biggest Elite Eight upset ever!
The biggest upset in what is probably the worst NCAA tourney ever.
Mario Chalmers' iconic buzzer beater (pictured above) is an all-time memorable shot.
Scottie Reynolds hits runner in the lane to deny Pitt its first Final Four trip since 1941.
This game will forever be remember for Hayward's heave that almost went in.
Two inexplicable end of game fouls created the weirdest end to a tourney game ever.
Biggest point spread upset in tourney history, and I guaranteed it would happen as soon as the brackets came out.
Burke's deep 3 at end of regulation (pictured above) is one of longest buzzer beaters you'll ever see. The Wolverines ended up clinching this game in overtime and making a run to the national title game in Atlanta.
Aaron Harrison's third game winning three pointer of the tournament gave Calipari his most recent trip to the national championship game.
R.J. Hunter's final shot (pictured above) and his dad's subsequent broken leg celebration is an all-time great moment in tournament history.
Kris Jenkins buzzer beater serves as one of two or three great all-time finishes to a national championship game, and this entire game, which I attended personally, was outstanding.
Luke Maye's buzzer beater ended Kentucky's incredible comeback attempt.
The first and only 16 over 1 upset is possibly the greatest upset in the history of all of sports.
Unbelievable pass, catch, and shot by Kihei Clark and Mamadi Diakite sends game into overtime and preserves Virginia's national championship run.
Suggs makes incredible block and pass in regulation and then wins game with OT bank shot three (pictured above).
Jayhawks pull off the greatest comeback in title game history to win program's 4th national title in thrilling fashion.
---
So those are your 83 moments from each of the past NCAA tournaments.  Now, let's look at the round-by-round analysis of these moments to see which tournament rounds have produced the best games.
Not surprisingly, national title matchups have produced the most "games of the tournament" which is not surprising given that they are by their very nature the most significant. With that being said, the round right before the title game, the national semifinals (aka Final Four), came in fourth place in this analysis. We always love to talk about how great the Final Four is with the back-to-back Saturday night matchups, but if look back over the years, you will see this round has failed to produce classic NCAA tournament games. An obvious exception to that is this year's Gonzaga/UCLA classic of course, which I believe it is probably the greatest national semifinal game ever played. At any rate, I believe it is fair to say the number of best tourney games each round has produced is an accurate ranking of the six rounds of the NCAA tournament (1- Championship, 2- Elite Eight, 3- First Round, 4- Final Four, 5- Sweet 16, 6- Second Round).
---
I also have broken this analysis down by team so you can see which teams play the best tournament games and how each team does in those games.  Interestingly, Kentucky had almost twice as many "games of the tournament" as any other school, and before you scream that this analysis is biased because I am personally a big Kentucky fan, go back and look at each of these tournaments.  You will see that in almost every single instance the Cats were unarguably involved in the best game that tournament produced, win or lose.  Part of the reason for that is that Kentucky has been the most consistent program over the history of the NCAA tournament by reaching the final four at least once in every single decade.  Here is the full analysis:
---
Finally, here is the full list of the best games by year without the illustrations or descriptions above. I thought some of you may want to look at this to more easily be able to compare different seasons over time. Thanks everyone for reading and please feel free to comment or debate.